Turiya® is a journey to Transcendental Elegance with original fine art on pure silk.
Timeless, Beyond Seasons and Trends our scarves are not just accessories, they are
An Essential to Define You
Our scarfs are fine arts by master painter Carl-W. Röhrig, creator of Phantastic Naturalism,
Hieronymus Röhrig, award winning Tattoo Artist, whose themes dwell with Entanglement
and Sven Joerg Hansen whose art depicts Spiritual Realms and Symbolism.
Printed on Soft Twill and Satin Chiffon for their feel, flow and universal sophistication,
we aim to create
Heirloom Accessories
Turiya® scarves are produced to high quality standards with focus on true colour
depiction of the original art and to edging and fringes.
We are based in Switzerland
Turiya® is a registered trademark. Copyright 2022 Turiya®. All rights reserved.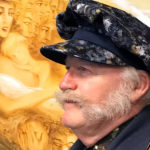 Carl took up a brush at three years and has since created over 3,000 works of art. He is the creator of a unique genre 'Phantastic Naturalism' from Greek Phantastikos – to make visions visible. He says, "Nature is the greatest art work", and in his paintings, nature transforms its physicality into transcendental visions to which the painter gives shape with fluidity, rhythm, music and harmony.
Carls paintings are open-ended stories, a thought, an emotion laid down on canvas, for the viewers to find their own interpretation as they are transported to a contemplative and spiritual world look for meaning and solace.
With over 1,500 illustrations for magazines including GEO, STERN and SPIEGEL, he is a lifetime member of the National Geographic Society. A recipient of numerous awards, his paintings adorn homes, offices, museums and galleries all over the world. He lives and works in Switzerland.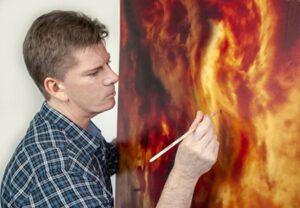 From the abstract to the reality behind, is the journey the viewer makes in the paintings of Sven.The reality behind the illusion that we call life. A world behind the visible world, the world of the spirit. The viewer travels back in time, from the abstract to the object, the soul.  
Inspired by Buddhism, Hinduism and Tao, the stories of Sven's work is the immeasurable "spiritscape" of the collective consciousness, the "soulscape" of man. Unfathomable journeys, indescribable in words or images, that can only be told with intense colour and passion.
Sven lives and works in Germany.